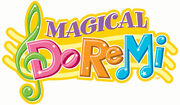 The show begin on June 9, 1997 on NBC. It's set in Boston that features the characters Dorie Goodwyn, Reanne Griffith, and Mirabelle Haywood. It came to ITV in United Kingdom, it came to Seven Network in Australia, it came to MTV3 in Finland, it came to Canale 5 in Italy, it came to RTL in Germany, it came to TF1 in France, it came to STS and Channel One in Russia, it came to TV Tokyo, Fuji TV, TBS, and TV Asahi in Japan, it came to TV4 in Sweden, it came to Kanal 2 in Estonia, and it came to CBC in Canada.
Characters
Edit
The characters for Magical DoReMi.
Dorie is a nice woman who came to Boston and her home is located on 53 Commonewealth Ave., and her zip code is MA 02116. Dorie watches Home Alone, Home Alone 2: Lost in New York, and Transformers 1984 cartoon.
Reanne is interested into computers, she used a computer to know everyone from around the world. Her home is located on 220 Boylston St., and her zip code is MA 02116.
Mirabelle is a shopper in Boston, Milwaukee, and Minneapolis. Mirabelle and her friends hang out at the mall in Minneapolis, Minnesota and went shopping for new outfits at Minneapolis Marriott City Center located on 30 7th Street South, Minneapolis, MN 55402. Her zip code is MA 02116.